Sponsoring a Lone Pine animal is the perfect way to support not only our wildlife but also their wild counterparts.
Your sponsorship will help support all animals within the Lone Pine family, including your chosen individual. Sponsorships are a one-off payment of just $20AUD.
Your support will go towards:
Providing 24/7 veterinary care
Maintaining healthy, varied diets and enrichment activities
Maintaining our three eucalyptus plantations
Continuing exhibit and environment maintenance and improvements
Contributing to research and conservation efforts
What is included:
Digital sponsorship certificate
Species information sheet, so you can learn all about them
Our wildlife keepers will be more than happy to point out your sponsored animal in their exhibit, so you can say hello.
Upon payment of your sponsorship, you will receive an email confirmation receipt. Our team will then be in touch shortly via email with your sponsorship certificate.
Meet Poppy, aka "Miss Independent". Born on the 29th of June 2019, she is a strong-willed, little go-getter of a koala joey who can't wait to be big and strong so she can go exploring.
Poppy has been melting hearts from the moment she left her mums pouch with her independent and feisty nature. She's a little koala with a big personality.
Stirling, born on the 6th of August, 2019, is a social butterfly and just wants to be everyone's best mate. He loves to stand beside his keepers while they clean his exhibit, and when out on walks, always makes a beeline for staff and guests to say hello!
Stirling loves the company of his dingo mates, Tanami and Jindy, and isn't such a fan if they go out on a walk without him.
Jindy is our gorgeous female dingo pup, born on the 6th of August, 2019. Jindy is easily identified by the white tip on the end of her tail and the fact that it never stops wagging! Jindy is a very sweet girl and a little goofy. She loves to investigate everything both inside her exhibit and out. She's always the first to greet her keepers, letting out a deep little grumbling noise to express her excitement.
Meet Hendrix, our two-year-old male perentie, who arrived at Lone Pine in March 2019. Hendrix is extremely intelligent and is the process of learning to walk on a harness for enriching adventures.
Hendrix enjoys nothing more than basking in the sunshine and getting some chest scratches from his keepers.
Aroona is one of our male platypus, born on the 1st of October 2012. Aroona is a speedy little lad, both in the water and on land. He loves chasing crayfish in his tank, and always travels through his burrow network in record speed, before snuggling up in his den for a nap.
You can easily identify Aroona by his smooth, perfectly brown bill, as opposed to Barak's which has pink pigmentation.
Meet Mr. Miyagi, the red kangaroo with a black belt in chilling. When Mr. M isn't grazing for grass with his other kangaroo buddies, he can often be seen sprawled out on his back soaking in the sun.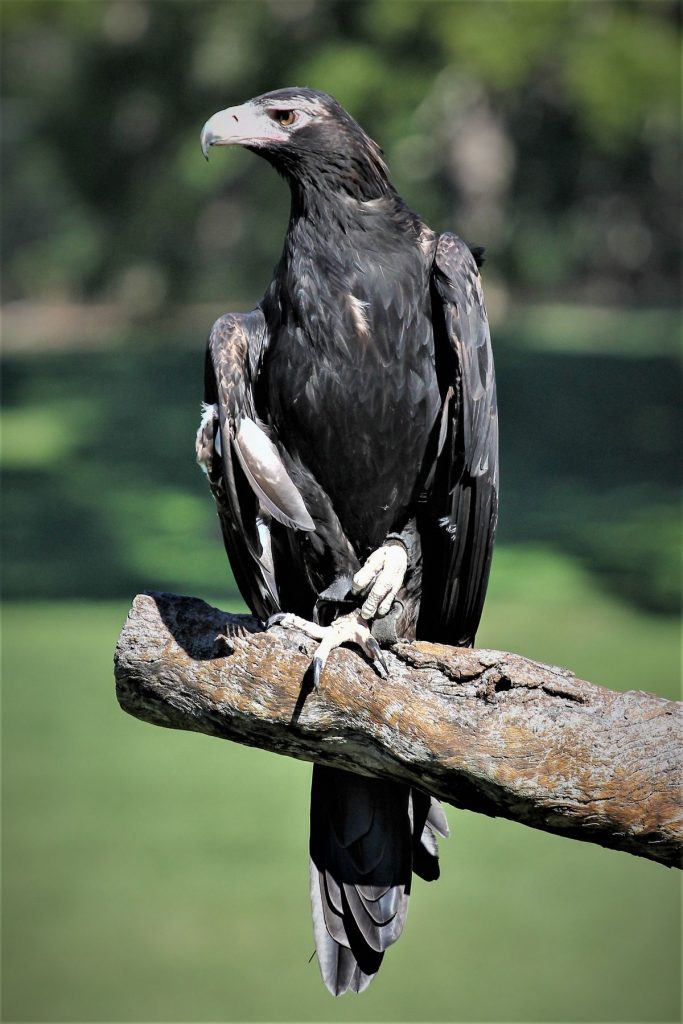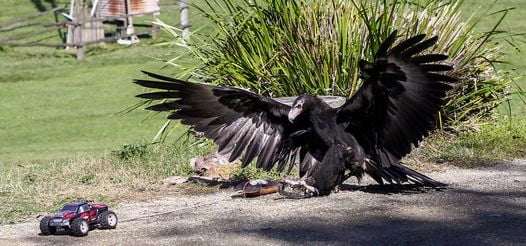 Spirit's Story
With an impressive wingspan of around 2.3 metres, wedge-tailed eagles rule the skies as Australia's largest birds of prey. Their distinctive diamond-shaped tails make them easy to distinguish from other raptors.
Equipped with hooked beaks, sharp eyesight, and even sharper talons, wedge-tailed eagles are perfectly adapted predators. Their prey can range from rats and rabbits to wallabies and even small kangaroos, and they play an important role in the ecosystem by controlling populations of pest species. While they are adept hunters, they are also known to be opportunistic and unlikely to pass up the chance for an easy feed. As a result, wedge-tailed eagles can often be seen feeding on carrion such as roadkill, making busy roads and highways tempting buffets.
Dangerous dining
The saying "you are what you eat" sometimes proves too true for wedge-tailed eagles as their road-side dining habits can result in them becoming roadkill themselves. Stuffed with bellies full of food, eagles find themselves too heavy to fly out of the way of approaching cars.
This was the case for one relatively lucky wedge-tailed eagle named "Spirit" who managed to survive a car strike. Unfortunately, Spirit didn't come away unscathed and sustained injuries including a broken wing, which limited his ability to fly and prevented him from being able to survive in the wild. His soaring days may be over, but his hunting days are not thanks to some clever thinking from our team of raptor keepers. These day's Spirit's "prey" is a bit more high-tech, but it still gives him a good run-around.
Toying around with Enrichment
The team had the clever idea of using a remote-controlled toy car with a tasty bit of meat attached to replicate the act of chasing down and catching prey items. This gives Spirit the opportunity to practice his natural hunting behaviours in a new and exciting way, with perhaps just a touch of poetic justice in that now he's the one hitting the car and not the other way around. The raptor team gives the car a bit of a head-start before releasing Spirit to chase it down and attack his "robo-prey."
So, while this amazing eagle's wing may be broken, as his name implies, his spirit (and hunting instincts) are still very much in-tact.
You can help protect wedge-tailed eagles in the wild by sticking to the speed limit and keeping a keen eye out whilst driving. If you do happen to see an eagle (or any animal) on the road, slow down as much as possible and honk your horn to give them a warning.
One word to sum up Bella: sweet.
Born January 2013, Bella is a gentle and curious soul who loves to follow around her keepers while they are cleaning. She is harness trained and enjoys going out on regular walks with her keepers to explore, sometimes even taking them for a jog!